Complex2000 automatic chemiluminescence imaging system can directly visualize ECL luminescence for experimental results.If a dark room is used for DCS inspection, not only the building of the dark room wastes space, but the exposure stages in the dark room are cumbersome. Additionally, toxic chemical reagents may also be exposed during the treatment of film X.
The complex2000 automatic chemiluminescence imaging system is small and light, and can be easily placed in any corner of the laboratory bench.At the same time, when performing ECl imaging, users only need to set different exposure times to achieve "unique, efficient, time-saving, energy-saving and environmentally friendly imaging"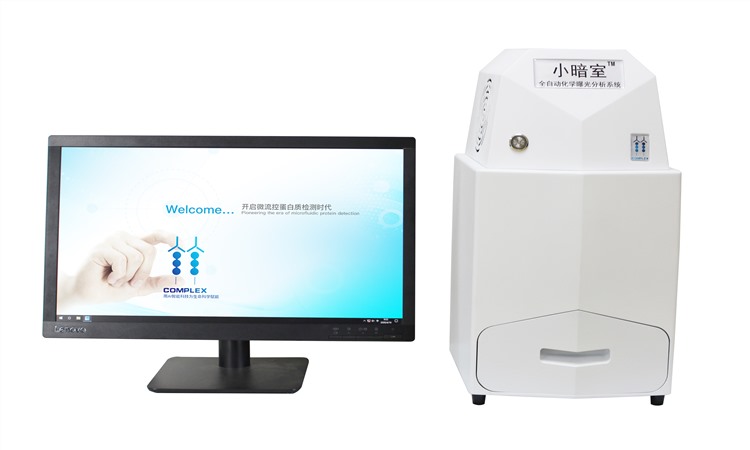 Instrument parameters:

1Camera Parameters:
Detector: 16-bit cold CCD, 65,535 gray scale
Resolution: 6 million pixels
Lens: 25 mm, F /0.95
Image acquisition range: 11x 9 cm (W x D) (image up to 4 small imprinted films or gels)
Binning mode: 1X1, 2X2, 4x4 (High sensitivity/high resolution Settings)
Zoom: 1 -- 2x, electric zoom
Image file format: TIFF, JPG, PNG
2 System Hardware:

Sample drawer: manual opening and closing
Filter set: 12 pieces (8 pieces excitation, 4 pieces emission)
Light source: (Optional) Excitation light source: 494nm (FITC), 550nm (TRITC), 590nm (Alexa Fluor594), 649nm (Cy5); Receiving light source: BP530nm, BP590nm, BP625nm, BP685nm;
3 System software:
Support automatic exposure (intelligent exposure)
Support for airborne image analysis
Application of independent analysis
4 Transportation:

Dimensions: (l x W x H) : 550mm*325mm*300mm
Weight: about 8 kg
Characteristics:
1.Chinese/English software, with real-time image acquisition software, which can be used for chemical luminescence images;
2.Independent Research and Development, low price, good effect, comparable to similar products of other countries;
3.Simple operation, single-sided imagery;
4.With automatic exposure function, automatic real-time exposure;
5.Simple imaging: with long-lasting exposure function, which can achieve long-lasting exposure of a single image;
6.Cumulative exposure multiple imaging function:It may be imaged several times over a long duration of exposure. And the exposure time of each image can be accumulated, preventing repetitive exposure. At the same time, users are able to choose the most preferred image to save;
7.With the sequential image recording feature, it is not necessary to store the images individually separately;
8.Supersaturated pixels can be displayed while shooting to ensure accurate quantitation;
9.With the annotation function, you can add textual notes or symbols in a variety of formats;
10.Image annotation analysis feature:Two images may be combined for display and analysis.
11.Image output: 8bitTif、16bitTif、bmp、jpg