The fully automated multichannel antigen emulsifier is suitable for biological research establishments and biological companies when they must immunize animals to prepare antibodies. It can automatically transform the Freund antigen and adjuvant into an emulsion and then inject it into the animal.If special automatic equipment is not available, the preparation of the immune emulsion requires two syringes to be connected and stretched several times. This not only makes the arm sore, but also has poor performance and unsatisfactory emulsifying effect. This multi-channel automatic emulsification instrument can simultaneously emulsify up to 20 groups of identical or different antigens depending on the customer's needs, freeing hands, effective and fast.
Product advantages:
1.The instrument is simple and practical to use, completely automatic emulsification, no manual work;
2.Emulsify 20 sets of identical or different antigens at the same time, which is effective and saves time;
3.The temperature of the bain-marie is controlled at 2-8 degrees Celsius throughout the process, without destroying the structure of the antigen, and ensuring the activity of the antigen;
4.Each group is equipped with a separate force sensor, which automatically recognises the emulsifying effect;
5.Automatic and manual modes to accommodate various experimental needs.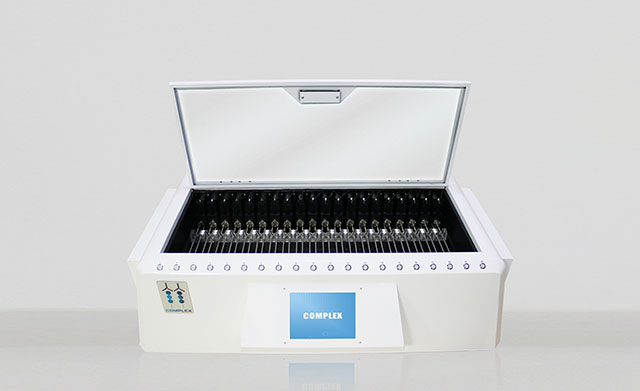 Parameter table:
| | |
| --- | --- |
| System | Automatic multi-channel antigen emulsification system |
| Model | AES3200 |
| Channel | 20 |
| Vibration frequency | 30 times/min |
| Syringe model | Disposable thread syringe 5ml or2ml |
| Temperature control | 低温水浴 |
| Working methods | 自动 |
| Data recovery | 支持 |
| Display | 数显屏 |
| Screen Size | 162mm x122mm |
| Voltage | 220V/50Hz |
| Power | 500W |
| Weight | ≤70Kg |
| Size | 1090mm x 700mm x 360mm |